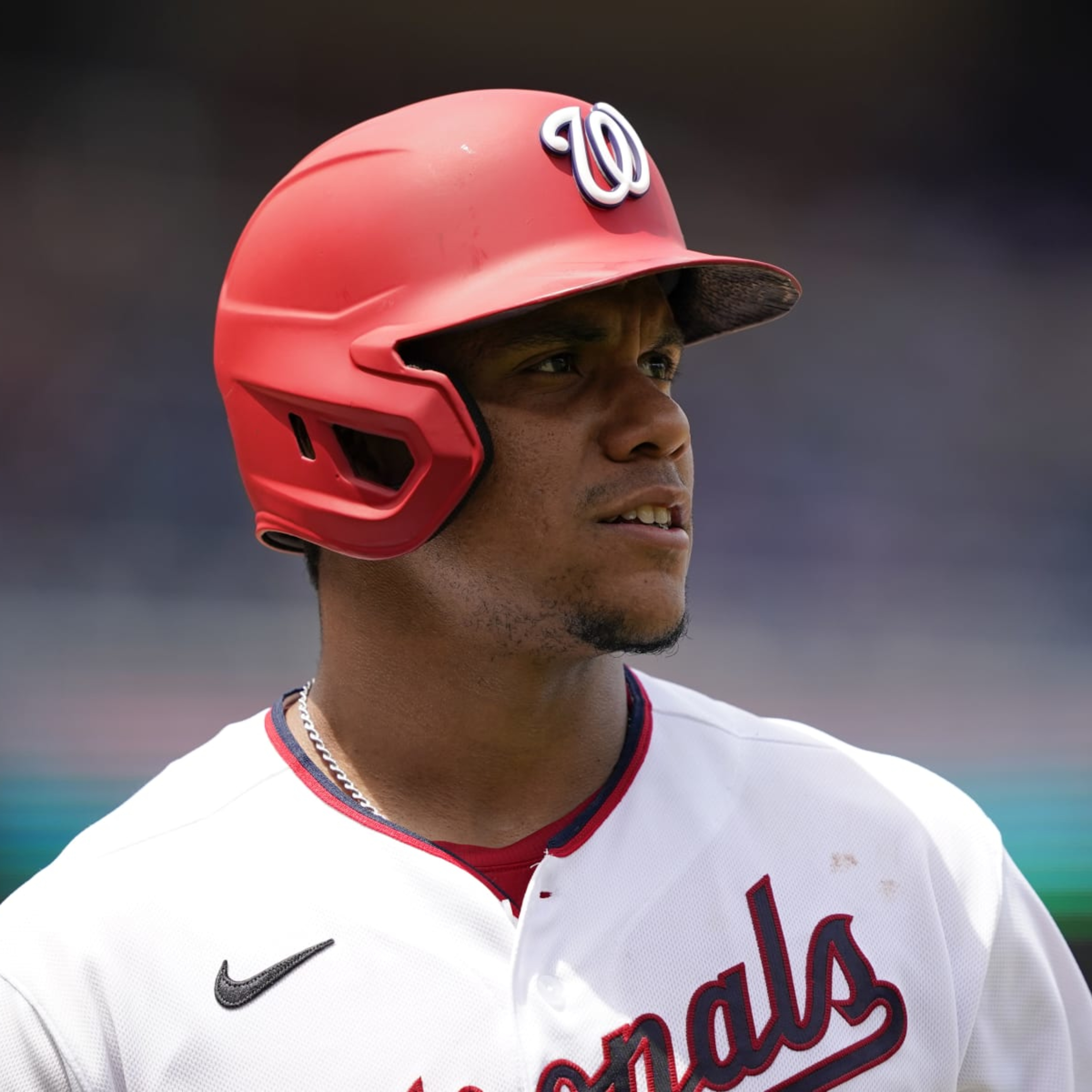 Deal or No Deal: MLB Trade Predictions Ahead of 2022 Deadline
0 of 8
AP Photo/Patrick Semansky

Now that Major League Baseball's Tuesday trade deadline is less than a week away, it won't be long before the stream of endless possibilities trickles down to one of a select few realities.

Until then, the best we can do is guess how it will play out.

So, follow along with us as we play a speculative game of deal or no deal. We've considered eight of the biggest questions looming over the trade market, from whether certain controllable aces will get moved to whether a major team in the American League East will buy or sell to, naturally, what will become of the best players available.

If you're hoping to read about Willson Contreras, Andrew Benintendi, Josh Bell and other pending free agents on non-contenders, you can stop now. There isn't a whole lot to say about them apart from, "Well, obviously they're going to be moved."

Otherwise, let's get to it.
1 of 8
Dylan Buell/Getty Images

According to MLB Trade Rumors and really anyone with a good sense of the trade market, right-handers Luis Castillo and Frankie Montas are the best starting pitchers up for grabs.

As both hurlers are under club control through 2023, the Cincinnati Reds and Oakland Athletics could conceivably opt to keep their aces. But given the circumstances, that's much more of a reach than the notion that both will move.

This seems especially true of the 29-year-old Castillo. The two-time All-Star is positively scorching—he's allowed three earned runs and struck out 33 over his last four outings—for a team that's nonetheless 22 games under .500. As reported by Bobby Nightengale of the Cincinnati Enquirer (h/t Mark Polishuk of MLB Trade Rumors), the Reds are right to think they can cash him in for young talent.

If there's a complication with Montas, it's that the 29-year-old recently missed time with shoulder inflammation. Yet he's recovered his velocity in his first two starts back, so rival teams can feel confident he's still the same player who's posted a 3.30 ERA over the last two seasons.

Given that the A's are 26 games under .500 and saddled with B/R's No. 20 farm system, holding on to Montas would be an act of irresponsibility.
2 of 8
Jim McIsaac/Getty Images

Things have changed since a certain Washington Nationals wunderkind landed on the trade market, but for a second, Miami Marlins right-hander Pablo Lopez was arguably the most interesting trade candidate around.

Jayson Stark of The Athletic highlighted Lopez, who's 26 and controlled through 2024, as potentially the "most surprising player traded at the deadline" on July 1, though his colleague Ken Rosenthal wrote the following week that it would probably only happen if the Marlins collapsed out of contention.

Does a 5-8 stretch since July 11 count as a collapse? It seems the Marlins think so, as Jon Heyman of the New York Post reported Tuesday that they're willing to listen on all but one of their players:

This would include Lopez, though Barry Jackson and Craig Mish of the Miami Herald reports they're not so much actively shopping him as merely listening. In what might be a related story, they also added that the team desires a left-handed power hitter.

All the same, count us skeptical of the notion that Lopez isn't long for Miami.

Because his ERA has grown from 1.05 on May 13 to 3.03, the Marlins may have missed their window to sell high on him. There also aren't that many obvious left-handed sluggers out there for them. Bryan Reynolds, perhaps, but him for Lopez wouldn't be a fair swap even if the Pittsburgh Pirates were willing to move him. More on that later.
3 of 8
Dustin Satloff/Getty Images

Remember what a big deal it was when the New York Yankees acquired Joey Gallo from the Texas Rangers last July?

So much for that. Gallo's time in the Bronx has been nothing short of a disaster, as he's hit just .160 and posted 0.5 rWAR over 138 games. With those numbers, his looming free agency and his $10.3 million salary, he looks like dead weight.

Gallo's agent, Scott Boras, nonetheless claimed there's a market for his 28-year-old client in speaking to

Joel Sherman and Jon Heyman on The Show podcast last week (h/t Justin Tasch of the New York Post), saying "I do know that there are a lot of teams that feel that Joey in their market and their uniform would be more of the normal than what he is in New York."

This isn't hard to believe. Gallo's value has deteriorated so drastically that he might be available in a straight-up salary dump trade. For teams that have the money, the two-time All-Star, two-time Gold Glove Award winner and two-time 40-homer slugger indeed has appeal as a change of scenery candidate.

The man himself told Dan Martin of the Post on July 6 that "I don't envision myself anywhere else." But given that he's frequently hearing boos and taking most of his at-bats out of the No. 9 spot, there's no doubt he's worn out his welcome.
4 of 8
Scott Taetsch/Getty Images

Sticking in the American League East, there's another slugger who's much more beloved yet seemingly at least as likely as Gallo to be dealt.

That would be the Baltimore Orioles' Trey Mancini, who was diagnosed with and recovered from colon cancer in 2020 and then was the American League Comeback Player of the Year in 2021. This is his last guaranteed year on the Orioles payroll, and he's preparing for the next few games like they'll be his last with the team:

Mark Viviano @MarkWJZ

Trey Mancini tells me he's approaching the next 4 gms as his last as an Oriole at Camden Yds &amp; he's "taking it all in" in anticipation of possibly being traded by Aug 2 deadline. Our conversation on <a href="https://twitter.com/wjz?ref_src=twsrc%5Etfw">@wjz</a> 5/6 pm <a href="https://twitter.com/WJZ13sports?ref_src=twsrc%5Etfw">@WJZ13sports</a> <a href="https://twitter.com/TreyMancini?ref_src=twsrc%5Etfw">@TreyMancini</a> (note: Mancini not in lineup v TB tonite) <a href="https://t.co/G9U0LPMbBt">pic.twitter.com/G9U0LPMbBt</a>

There is, however, a question of whether the Orioles should trade Mancini.

Though FanGraphs pegs their chances of making the playoffs at just 3.0 percent, the Orioles are only 3 games off the pace in the race for the AL's third wild card. And as we'll discuss, one of the teams ahead of them in that race is on shaky ground.

As he boasts a modest .741 OPS and is slumping with zero hits in his last six games, there's also another question of what Mancini is even worth. Whatever it is, it's probably not enough to assuage the PR hit the Orioles would take if they trade the team's most beloved player.
5 of 8
Brian Fluharty/Getty Images

As of June 26, the Boston Red Sox were 11 games over .500 and had an 80.3 percent chance to make the playoffs. Life was good, in other words.

Since then, less so. Boston has lost 18 of 25—with the worst defeat being a 28-5 drubbing at the hands bats of the Toronto Blue Jays on Friday—and its playoff odds have dipped to 26.5 percent.

There's perhaps still hope that the Red Sox will shrug this off, particularly as they welcome core hitters J.D. Martinez and Trevor Story back from injuries. If so, chief baseball officer Chaim Bloom might even look to buy at the deadline.

More believable, though, is what ESPN's Jeff Passan is hearing: that even if the Red Sox are obliged to keep shortstop Xander Bogaerts, who's likely to opt out of his contract in the offseason, the possibility they will hold a fire sale is nonetheless "increasingly realistic."

Even sans Bogaerts, Boston has an intriguing list of pending free agents that includes Martinez, right-hander Nathan Eovaldi and catcher Christian Vazquez. Especially in light of the team's notably difficult remaining schedule, there's sense in cashing in those players and regrouping for 2023.
6 of 8
G Fiume/Getty Images

Bryan Reynolds hasn't had the best timing with the Pittsburgh Pirates, as his standout rookie campaign in 2019 was also the same season the club fell into a rebuild that is still ongoing.

As a result, Reynolds has been a regular in trade rumors. So it goes in 2022. Rob Biertempfel of The Athletic reported on July 11 that the Pirates have turned down "tempting" offers for the 27-year-old center fielder. As Jim Bowden of The Athletic reported on Tuesday, the Yankees and Marlins especially that have "not stopped calling."

Perhaps they'll change course over the next week…or then again, perhaps not.

To be sure, Reynolds' value remains sky-high. Despite a stint on the injured list with a strained oblique, the 2021 All-Star boasts a .907 OPS and eight home runs since the start of June. He's also under club control for three more seasons after this one.

The Pirates, however, are trending up. It may not show in their 40-58 record, but they're a respectable 11-13 since June 29 thanks in part to building block such as shortstop Oneil Cruz and right-hander Mitch Keller. With more cornerstones standing by in their eighth-ranked farm system, they have every reason to keep Reynolds and build around him.
7 of 8
AP Photo/Nick Wass

Even if he is indeed available, there's a lot going against the possibility that the Nationals will trade Juan Soto.

Let's start with the prohibitive cost to acquire the 23-year-old, who is controlled through 2024 and already making $17.1 million via arbitration.

FOX Sports: MLB @MLBONFOX

What's the Nationals asking price for Juan Soto? <a href="https://twitter.com/Ken_Rosenthal?ref_src=twsrc%5Etfw">@Ken_Rosenthal</a> reports that it will take 4 to 5 top young players (combo of prospects and major leaguers with low service time) to potentially land the superstar <a href="https://t.co/fefj20gO7P">pic.twitter.com/fefj20gO7P</a>

The looming sale of the Nationals is still another factor. According to Heyman, some of the parties in the mix to buy the team from the Lerner family prefer MLB's modern-day Ted Williams to still be on the roster when the transaction is finalized.

On the other hand, one executive reasoned to Passan that dealing Soto would give the Nationals' next owner a clean slate. There would be value in that, especially if said clean slate is paired with a plethora of prospects.

As for whether such a package is out there for Washington, the answer seems to be "yes." A poll of executives by Mark Feinsand of MLB.com returned a list of 13 possible teams for Soto, including a selection of the most talent-rich contenders. The notion that one of them will take the plunge thus doesn't seem like a long shot.
8 of 8
Todd Kirkland/Getty Images

Courtesy of Rosenthal, we at least have an idea of what it would take to pry Shohei Ohtani from the Los Angeles Angels. That makes it so much easier to speculate about where he could end up via trade.

This said, we're not holding our breath. And we advise everyone to follow suit.

If the cost for Soto is prohibitive, then the cost for Ohtani is more like unworkable. Per Rosenthal, the Angels would only move the 2021 AL MVP for "established major leaguers." As in the players whom contenders need if they want to keep contending.

There's also the Arte Moreno factor. Rosenthal reported the Angels owner is unwilling "to be vilified more" by the team's fanbase. No matter the return, some level of villainy would be in order if Moreno OK'd a trade of the best two-way player in major league history.

Because they do need to make some kind of pivot off the trajectory they've been on amid six straight losing seasons, the Angels aren't assured to never trade Ohtani. But rather than this summer, a deal may be more likely to occur in the offseason, when his walk year will be on the horizon and the team will have more time to conduct negotiations.

---

Stats courtesy of Baseball Reference, FanGraphs and Baseball Savant.
For all the latest Sports News Click Here 
 For the latest news and updates, follow us on Google News. 
Denial of responsibility!
NewsUpdate
is an automatic aggregator around the global media. All the content are available free on Internet. We have just arranged it in one platform for educational purpose only. In each content, the hyperlink to the primary source is specified. All trademarks belong to their rightful owners, all materials to their authors. If you are the owner of the content and do not want us to publish your materials on our website, please contact us by
email – 

[email protected]
. The content will be deleted within 24 hours.