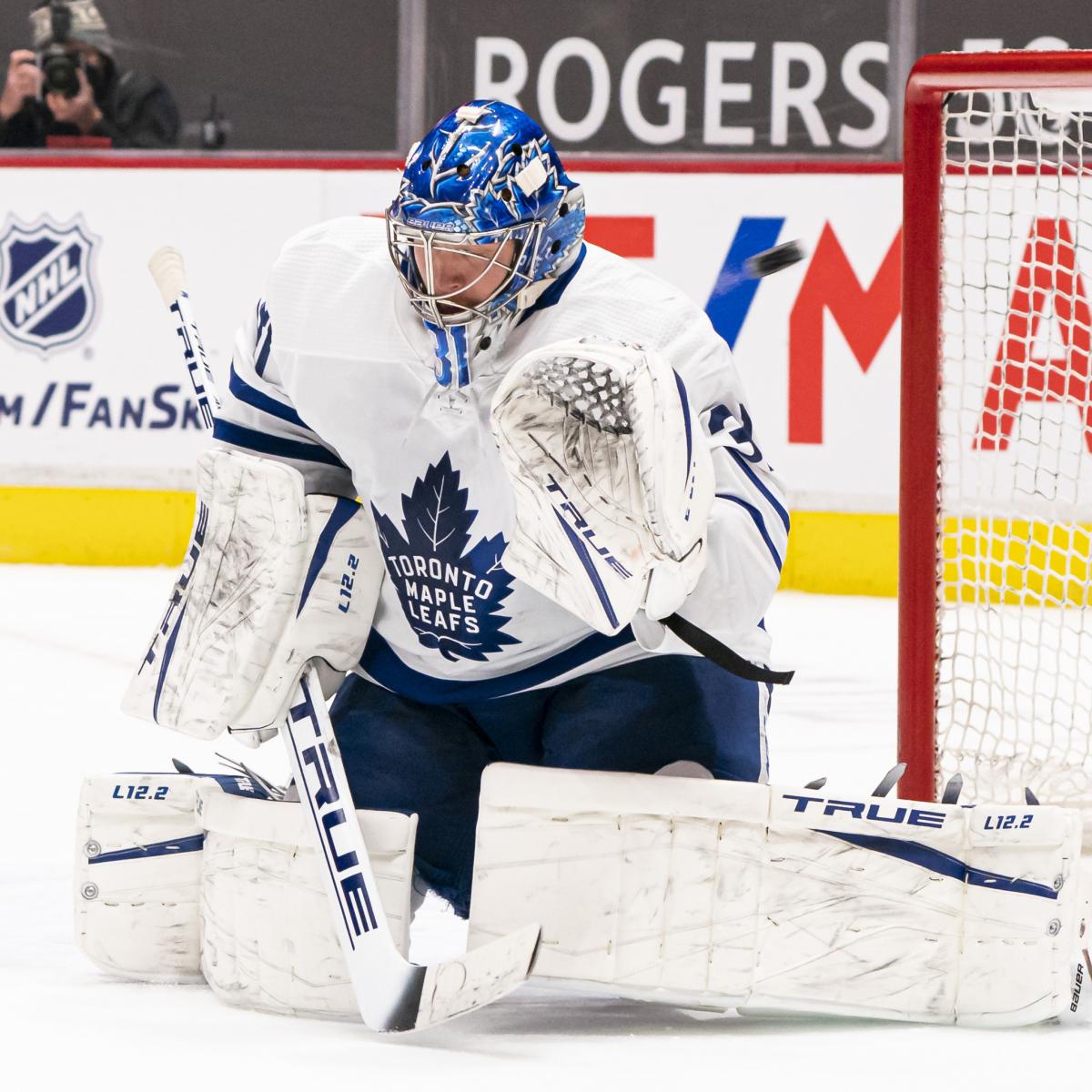 Dear Abbey: What's Next for the Maple Leafs?
0 of 7
Rich Lam/Associated Press

Welcome to another edition of Dear Abbey, where instead of giving life advice like the real Dear Abby, I answer hockey questions instead.

But today it does feel like I need to give some life advice: It's going to be OK, Toronto Maple Leafs fans. I know it's difficult to think that right now. Being a sports fan can be a strange kind of torture. It's an emotional roller coaster. But don't burn your jerseys. Those things are expensive.

The fanbase is understandably livid with the team's most recent choke job. The Leafs were up 3-1 in their first-round series against the Montreal Canadiens and lost in seven. This was supposed to be the year they finally put it all together and won the Stanley Cup.

At the very least, this was supposed to be the year they got out of the first round.

The power play was dismal, and the Leafs lacked a killer instinct. They couldn't close games. Game 7 is not the time to be passive and tentative.

So we asked fans to play armchair general manager and offer solutions on how to fix things. Some offered trade proposals, some felt the solution was to choose a new team and some didn't offer any advice but did have some funny answers.

It's the Maple Leafs edition of Dear Abbey.
1 of 7
Peter Power/Associated Press

Of this group, who is most likely to be traded: Marner, Nylander, Rielly? (@BR_NHL)

Fans were quick to jettison Mitchell Marner after he failed to score on 19 shots during the series against the Habs. Auston Matthews scored only a single goal on 35 shots. Defenseman Morgan Rielly is entering the final year of his contract, and he's always been defensively deficient.

Based on general manager Kyle Dubas' comments earlier this week, it sounds like none of them will get traded. I'd be shocked if one of them was left exposed to the Seattle Kraken in the upcoming expansion draft.

When it came to the play of Marner and Matthews, Dubas was fiercely protective of his two top-line stars.

"I understand the fans can feel any way they want. Media are entitled to feel the way they want. But these are two awfully great young players who showed over the entire regular season what they are capable of," he told reporters in his end-of-season Zoom news conference. "Each has had success in the playoffs previously. In the first two years here, Mitch was one of our best players in the playoffs against Washington and Boston. He has shown he has done it before—producing—and he makes such a big impact in other areas of the rink: on the penalty kill, defensively, etc.

"I have tremendous belief in both of them. They have shown everybody what they are capable of over time. I know, as we continue to go through these seasons and playoffs, the story will be different for them in the future in terms of the way people speak about them following the playoffs."

It's good business to talk up a player before trading him, but this core deserves another shot.
2 of 7
Peter Power/Associated Press

Leave Tavares unprotected because his contract won't age well. Trade Alex Kerfoot and try to develop Nick Robertson and Rodion Amirov. Re-sign Dave Rittich and find two solid d-men to put on the damn third pair. (@thedudeyaknow)

The club has to protect captain John Tavares in the upcoming expansion draft because he has a no-movement clause. Teams have to protect players with no-move clauses. So that's not a solution. Barring some extra-weird turn of events, Tavares will not be going to the Kraken. And the Leafs need the leadership of their captain. Before a gruesome collision took him out of the postseason, he was their steadiest player. Only two other players played all 56 games of the regular season: Kerfoot and TJ Brodie.

As far as the development of Robertson and Amirov goes, they might need more time, but they'll compete for spots in training camp. Robertson, the brother of Calder Trophy finalist and Dallas Stars left winger Jason Robertson, was limited by a knee injury this season. Amirov had a good campaign in the KHL. They could give Toronto some forward depth and help it get younger and faster, but there is no reason to rush them. When you rush prospects, you end up becoming the Buffalo Sabres. This organization is far too smart to do that.

Rittich would not be a bad depth signing. As for two third-pairing defensemen, Rasmus Sandin had some playoff growing pains, but he's an affordable player who can help the Leafs stay under the salary cap. He's only 21, so growing pains are to be expected. Travis Dermott is a restricted free agent due for a raise, but he'll still be affordable as well. He might, however, be a prime candidate for the Kraken.

A veteran depth defenseman could be good to pair with either of them, but Toronto doesn't have the cap space to spend on pricey free agents, if that's what you're thinking.
3 of 7
Rich Lam/Associated Press

This team is not built for playoff hockey. A lot of very talented players but they are all soft and can't compete come playoff time. Gotta move on from Tavares, Marner and the likes and get some grit in that locker room. (@BPCard)

I saw a lot of responses similar to this. There seems to be a faction of the fanbase that thinks grit, heart and maybe even fists are what the Leafs are missing. But grinder types do not replace high-end talent. Tavares and Marner are elite players, and this team did have plenty of grit in the form of veteran forwards Wayne Simmonds, Joe Thornton and Jason Spezza.

And while Spezza had a fantastic postseason, there were times when the trio slowed the team down. Bigger, heavier hitters aren't going to solve this problem. Today's game is about speed and skill, and while teams do need some size and physicality, getting rid of high-end players in favor of brawlers would be a dramatic overreaction.

Remember, the Leafs will be going back to the Atlantic Division next season, where they will face fast, skilled teams such as the Tampa Bay Lightning often. If you want to look at some depth pieces who could add speed, skill and grit, then look no further than Tampa Bay's own Blake Coleman. But while Coleman is a talented player who can play a lot of roles for a team and play them well, he isn't an elite player like Marner or Matthews.

You cannot win the Stanley Cup without elite talent.
4 of 7
Jeff Chiu/Associated Press

Very frustrating understanding this team. Over five or six years, they changed management, coaches, new players came in, good goal scorers, yet still can't get past the first round. They had great goaltending this postseason as well. I give up. (@davelebert)

Don't give up! The Leafs haven't won a playoff series since 2004, so it's understandably frustrating to watch this same episode over and over again.

Goaltending is an interesting area. Jack Campbell was fantastic this season, but it's still unclear whether he is a No. 1 goalie. It has become apparent the team is ready to part ways with Frederik Andersen after Campbell went 17-3 with a .921 save percentage. He's also cheap, with one more year on his contract at $1.8 million and a $1.7 million cap hit. Andersen's contract is expiring, and he earned $5 million in each of the past five years.

The problem was never Andersen, Campbell or any of the backups. The Leafs had trouble helping their goalies because of a porous defense. But they made strides in that area this season, limiting the high-danger chances, so there is a reason to think that the systems and structures are working and that it's a good sign for the future.
5 of 7
Jeff Chiu/Associated Press

John Tortorella (@cmc13579)

This will never happen, but there would be one benefit: Torts is great at taking the attention off his players. When he gets combative with the media, it takes attention from players who might have performed poorly and puts it squarely on him. And in a media market such as Toronto, where the sky falls if Matthews is held off the scoresheet, he might be able to help deflect negative attention or intense scrutiny.

Tortorella can handle a tough media market—he coached the New York Rangers and Vancouver Canucks—but Toronto is a different story. The Maple Leafs might want a coach who won't argue with the media, but then again if the benefit of player protection outweighs the desire for positive public relations, then maybe this could work.

Still, I don't see them moving on from Sheldon Keefe anytime soon.
6 of 7
Jeff Chiu/Associated Press

Don't lose your heads because the Leafs leaf'd. This team was great. Even in this series, they still dominated Montreal. They leafed and that's all. Don't trade Marner, don't trade Reilly. If there is a way to add a Josh Anderson-esque player you do it. Re-sign Hyman, Robertson and Brooks should play bigger roles for cap purposes. Let Andersen walk. Campbell is the No. 1 goalie. Sandin should play on PP1. Dermott/Holl to Seattle. And new assistant coaches. Gotta fix the power play. This trade Reilly, trade Marner talk is stupidity. Marner makes Matthews that much better. And Marner is a dangerous PK player. (@LordStanleysJock)

Finally, some reason. It's easy to get frustrated with the Leafs' befuddling inability to get out of the first round, but tearing it down wouldn't be smart. The Lightning were swept by the Columbus Blue Jackets in the first round in 2019 but won the Cup in 2020.

Toronto has been one of the better regular-season teams for the past four years.

In his end-of-season press conference, Dubas said he hasn't seen a group this depressed. Losing should provide some pretty good motivation for the Leafs next season. It sure did for the Lightning, which might have been the best regular-season team in history but had little to show for it until last season.
7 of 7
Adrian Kraus/Associated Press

They should play in Buffalo like the Blue Jays. They're not going to want to show their faces anymore in Toronto. (@Redfish06)

If I had a consolation prize, it would go to you, Redfish06, because this was the second-funniest comment. I love insightful responses, but I love humorous ones the most. No disrespect to Sahlen Field in Buffalo, because it's great, but I'm not sure hockey and Buffalo are synonymous with success right now.

           

You can't even fix this team on NHL EA Sports Franchise Mode and Be A Pro MyCareer Mode. (@ericaglenn)

Congratulations, ericaglenn. This was the funniest response. I'm not even a gamer and I lol'd.

Thanks to all who participated. Let's do it again next week!
For all the latest Sports News Click Here 
 For the latest news and updates, follow us on Google News. 
Denial of responsibility!
NewsUpdate
is an automatic aggregator around the global media. All the content are available free on Internet. We have just arranged it in one platform for educational purpose only. In each content, the hyperlink to the primary source is specified. All trademarks belong to their rightful owners, all materials to their authors. If you are the owner of the content and do not want us to publish your materials on our website, please contact us by
email – 

[email protected]
. The content will be deleted within 24 hours.