MSI MAG B760M Mortar WiFi review: Smaller, cheaper next-gen performance
At a glance
Expert's Rating
Pros
Good balance of features for a $199 Micro-ATX motherboard
Two onboard M.2 slots, eight USB ports
Nice networking and decent audio 
Clean design, integrated I/O shield
Cons
B760 means no CPU overclocking 
The 4 USB 2.0 slots should be at least USB 3.0  
No heat sink on the second NVME slot 
Our Verdict
Overcoming its Micro-ATX format limitations, the MAG B760M Mortar WiFi from MSI provides most next-gen features users want while managing to keep the price budget friendly. It lacks the potential for CPU overclocking and the lack of USB 3.0 slots are disappointing, but overall it's a great motherboard with solid baseline features for budget builds.
Best Prices Today: MSI MAG B760M Mortar WiFi
Intel CPUs have been maturing nicely in the PC building space, with both 12th-gen and 13th-gen offerings well received. This makes Intel more flexible for gamers looking to build more niche setups—such as Micro-ATX. 
Coming in shorter than a typical ATX motherboard, mATX allows for smaller, compact case options. Even better, you can often find performance and features with minimal compromise within that size. CPU overclocking is a moot point here because of the B760 chipset, but can motherboards in this chipset class still be "just right"?  
The MSI MAG B760M Mortar WiFi joins the fray as an under-$200 option for small form-factor builders. While not as tiny as Mini-ITX motherboards, Micro-ATX retains more space—and thus more features for the price. With a value-focused package, can it still be a viable option for a serious PC gaming rig? 
We'll go over the features, the design, and the performance. Combining that with the value you're getting for its price, is going mid-sized really worth it? The MAG series of motherboards from MSI have been well-priced options thus far, so we'll see if the B760M Mortar continues this trend. 
MSI MAG B760M Mortar WiFi specs
Thiago Trevisan
Micro-ATX form factor (243.84×243.84mm)
Supports Intel 12th- and 13th-gen CPUs 
12+1+1 Duet Rail System with 75A
DDR5 RAM, dual channel up to 4 DIMMs (up to 128Gb)
2x onboard M.2 slots (PCIe Gen 4)
2x PCIe 16x slot (PCIe Gen 5 and Gen 4) 
1x PCIe X1 slot (Gen 3)
HDMI 2.1 and DisplayPort out 
8 USB ports on back (including 1x 20Gb/s)
Realtek 2.5Gbe LAN with Bluetooth 5.3
Intel Wi-Fi 6E 
RGB headers for Mystic Light
4 SATA 6Gb/s ports 
6 PWM fan headers 
Preinstalled I/O shield 
Realtek 7.1 ALC 897 Audio
MSRP $199
The MSI MAG B760M Mortar Wi-Fi will come in at $199, which puts it on cheaper footing when compared to MSI's AMD B650M Mortar WiFi version, which we looked at recently. Thanks to Intel supporting both 12th and 13th generations, you could also use an older CPU such as an Intel i5 12600 here, too. 
The B760 chipset from Intel differs from the Z790 chipset in some important ways. The most vital thing to know is in CPU overclocking: You'll need Z790 if you plan to tweak your CPU above stock. This can be an issue for some, especially if you're planning to use an unlocked "K" Intel CPU for maximum performance. For most gamers, non-overclocked performance will still be more than capable. Another distinction of the B760 motherboards, is that you're typically getting less-capable VRMs, too. 
Other important differences in B760 come down to fewer PCIe lanes, USB ports, and SATA ports. Keeping in mind that Micro-ATX motherboards already have fewer of these onboard due to size constraints, so the chipset's limitations shouldn't be an issue for most.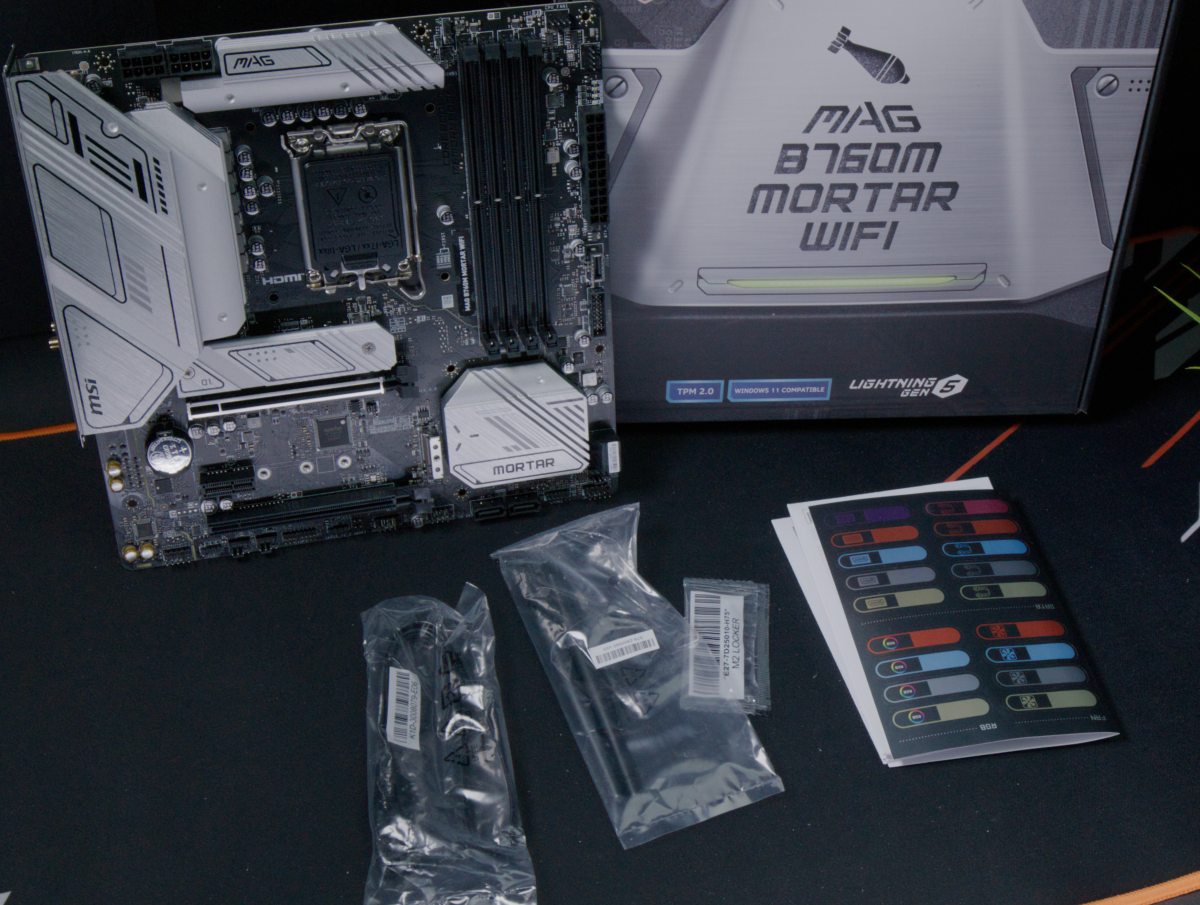 Thiago Trevisan
The unboxing experience is basic but has the essentials. You'll find SATA cables, M.2 accessories, and some neat stickers. The Wi-Fi antenna is here too, as Wi-Fi is standard on this motherboard.  
CPU choice
With support for both 12th- and 13th-generation Intel CPUs, you'll have a vast variety of CPUs to choose from. Given the fact that B760 doesn't offer overclocking like Z790, we'd recommend staying away from the highest-end "K" SKUs such as the i9 13900K. You're much more likely to pair a i5 13600 or even a last-generation non-K CPU to save some cash here. An i7 13700 can also work great here for even more performance. 
DDR5 RAM and PCIe Gen 4/5
You have the option of DDR4 with this motherboard, but this unit is DDR5. You're getting some of the best speeds, and overall performance will be within a few percentage points of more expensive motherboards. Combining this with the non-K CPUs can result in some nice price savings for a still competent build. 
You are getting PCIe Gen 5 for the 16x slot, but the other slot will be Gen 4. (And the 1x slot, useful for minor add-ons, will be Gen 3.) 
The M.2 slots will also be PCIe Gen 4, which is fine as Gen 5 is barely just arriving and still not saturated. 
Micro-ATX has these multiple PCIe slots as a big advantage compared to Mini-ITX motherboards, for those who need the extra utility. (At the cost of slightly larger size, of course.) 
Storage
We'd expect at least two NVMe slots on a motherboard of this size, and it delivers. While many larger ATX motherboards can have four or more, due to size and chipset limitations, two should be a good number for most builds. 
Both NVMe slots will be "Lightning Gen 4 X4," with one having an M.2 "Frozr" shield for better thermal performance. We'd love to see both covered here, however. 
You'll also get four SATA ports for other hard drives and SSDs, filling up your small form factor case with ease! 
USB ports
You are getting eight rear USB ports, with an interesting mix. Four of them will be the ancient USB 2.0—which while fine for some peripherals, certainly falls short of USB 3.0. You do get USB 3.0—and even a single 3.2 Gen 2×2 with 20Gb/s speeds—to balance it out. Not perfect, but certainly a fair selection for a smaller motherboard under $200.  
DisplayPort and HDMI 2.1 also are here if your CPU supports the iGPU function. 
Networking
Connectivity is great here, similar to most ATX motherboard offerings. Wi-Fi 6E and 2.5GbE LAN are both standard, along with Bluetooth 5.3. That's as good as we can expect for this size and price range, no complaints.  
Audio
Audio is capable, with a 7.1 ALC 897 codec. You're getting a good selection of inputs in the back, but keep in mind that "audiophiles" may need to fish out their separate external solution for the best sound. Gamers and most users should be more than happy, however.  
Other features of note
An integrated I/O shield continues to be a party favorite on newer motherboards, and we're glad to see it here. The screwless M.2 drives are also nice, saving some headaches with small screws. Debug LED is also here, but you won't find BIOS flashback. 
MSI MAG B760M Mortar WiFi design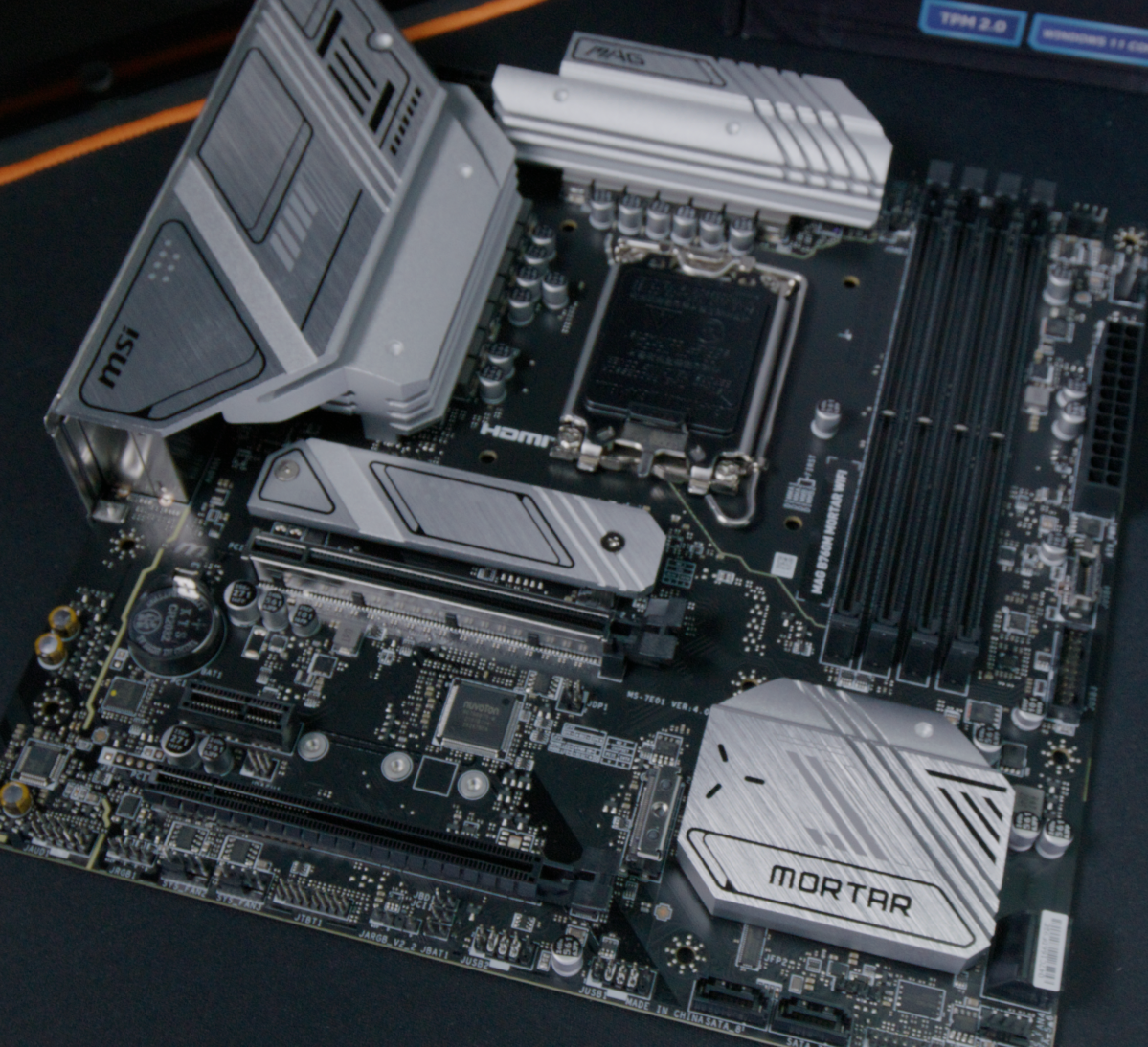 Thiago Trevisan
The MSI MAG B760M Mortar WiFi follows in the tradition of similar MSI motherboards, such as the "Tomahawk" series, when it comes to design. You're greeted with a mostly monochromatic silver, with various shading offering contrasting points. 
While it lacks much RGB or gamer aesthetic, this is a clean design that can work great in almost any environment. The I/O cover area follows this same design metric, with some nice visual accents in black outlining the almost industrial-looking silver. The integrated I/O shield is another great design feature that we're happy is becoming more prevalent on all classes of motherboards.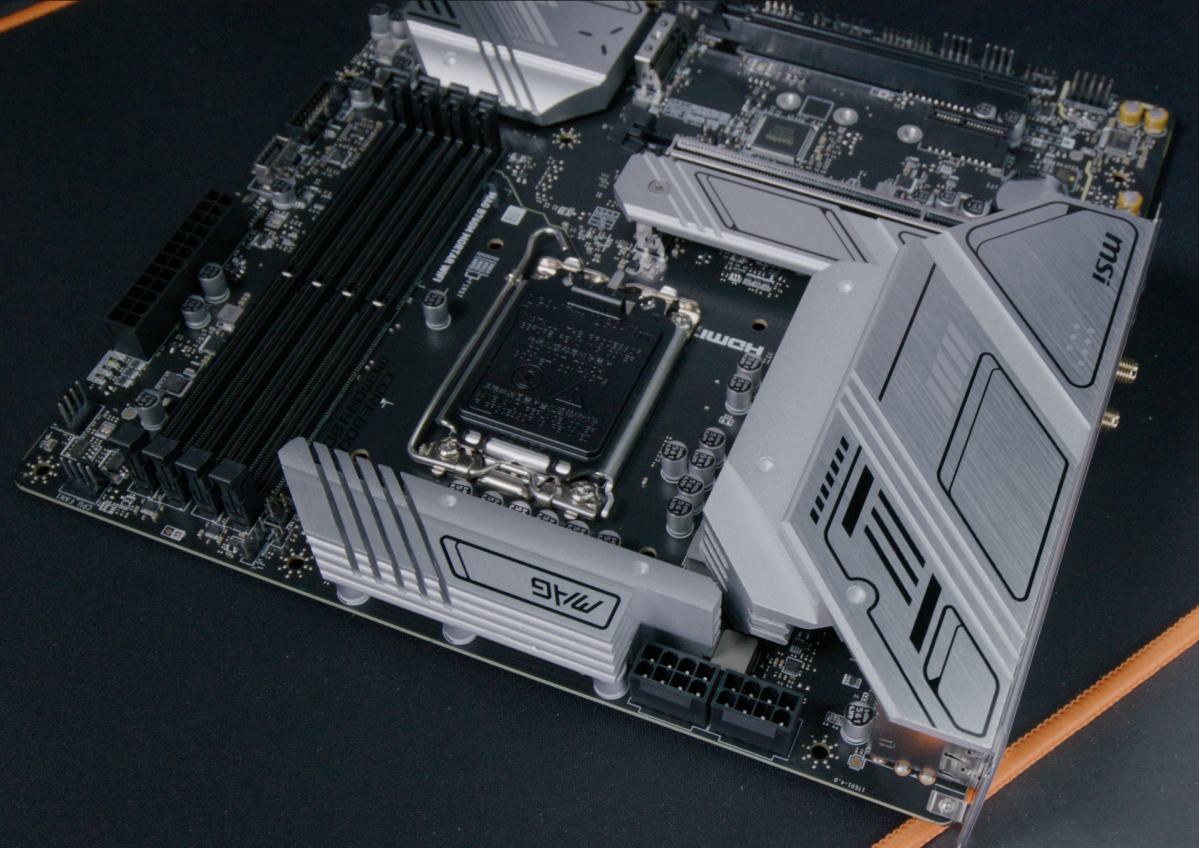 Thiago Trevisan
While the VRM heatsink area does not look quite as imposing as on Z790 motherboards of a higher ilk, it fits in perfectly here. Continuing down the PCIe slot areas, you'll find the top M.2 slot with a "Frozr" thermal cover. Sadly, the lower M.2 remains exposed—it would be nice for it to also be covered for visual continuity and thermals. This area is mostly blocked by the GPU, so it's a minor quibble. (Do note that the previous MSI MAG B660M Mortar WiFi motherboard—with a similar design to this—does have that second NVMe slot cover.)
For the $199 price, the fit and finish feel high-quality and durable. Since you're not paying for overkill RGB effects or fancy OLED screens, this simple design approach helps to keep the cost down.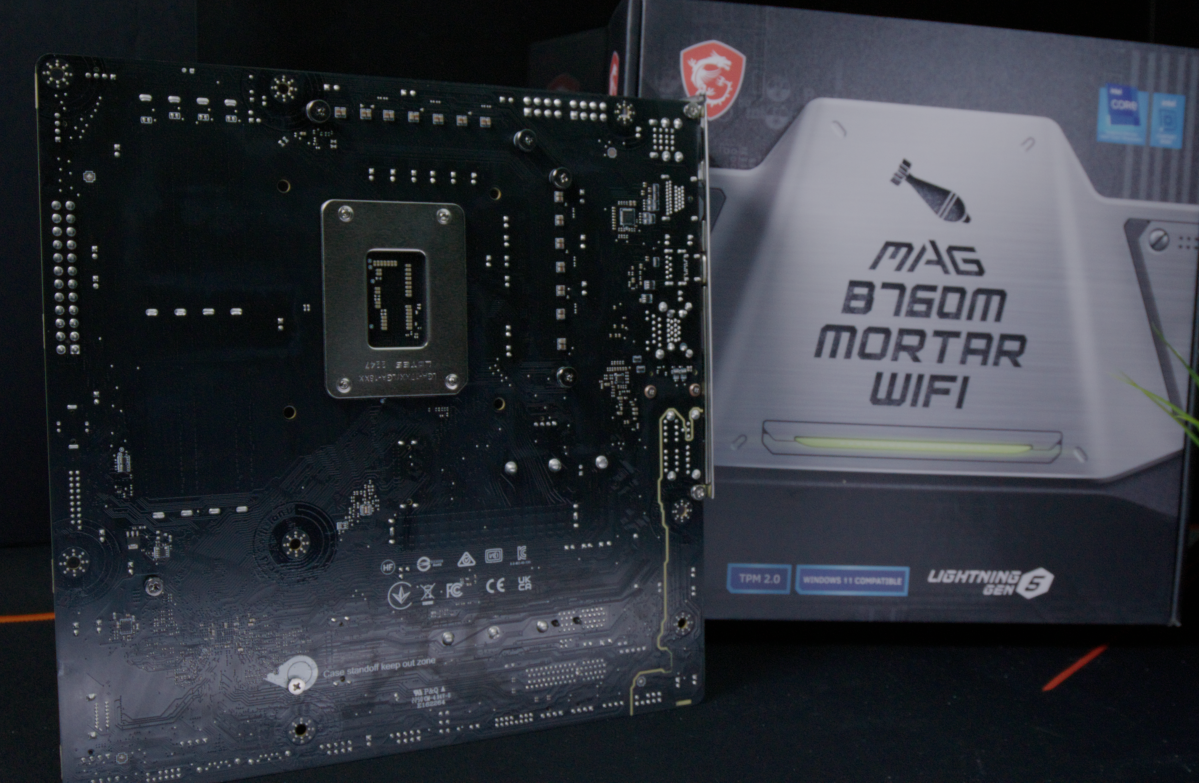 Thiago Trevisan
The back of the motherboard is what you'd expect—no need for a fancy backplate here. Overall, given the small form-factor size and lower price, the design across the entire motherboard is very fitting for what you're getting. 
MSI MAG B760M Mortar WiFi: Performance, software, and BIOS 
The MSI MAG B760M Mortar WiFi is not geared towards maximum performance. The B760 chipset forgoes CPU overclocking for cost savings, but this doesn't mean that you're not still getting capable performance. 
With its 12+1+1 Duet Rail System VRMs, this board is more than capable for most CPUs. While we'd avoid most of the "K" SKUs, you'll find a perfect pairing with something like an i7 13700 or similar. There's a hidden benefit to this, too. While some may be sad over the loss of CPU overclocking, using these more efficient CPUs may be a great boon when building a small form-factor PC. Lower power will mean lower heat output, making smaller air or liquid coolers easier to implement and keep under control. 
When you remember that CPUs such as the i9 13900K often require a 360mm liquid cooler to keep it under control, it's easy to see how that can be difficult to properly implement in a small PC case. (From our experience, Micro-ATX supporting cases usually top out at 240mm or 280mm for radiator support, with some exceptions.) 
Going further, DDR5 RAM is standard here—with an option for DDR4 if you purchase that version of the motherboard instead. We'd likely recommend sticking with DDR5, as the costs are down now for most kits, and you'll be taking more advantage of what the B760 platform has to offer with newer CPUs. 
PCIe Gen 5 is here for the 16x GPU slot, which currently is not saturated by modern GPUs. It's still nice to have for future possibilities, however. You're not getting Gen 5 for the NVMe slots, but you're getting Gen 4 and that is likewise more than capable at this point. 
Let's talk about the BIOS—which may be a less-frequent destination for most users of this motherboard. As with the B760 chipset, you're going to be limited when it comes to CPU tweaking compared to Z790. That's fine for most users, and the BIOS will still give you access to most other items you may be used to. You can set the XMP profile for the DDR5, and various other configurations of drives and boot priorities. The BIOS is generally easy to navigate and use, but after setting initial profiles, it's unlikely you will spend much time in here. 
If you prefer to keep some tweaking to Windows itself, MSI offers its MSI Center software. Motherboard manufacturers have been on a trend lately of integrating as many elements as possible into one piece of software.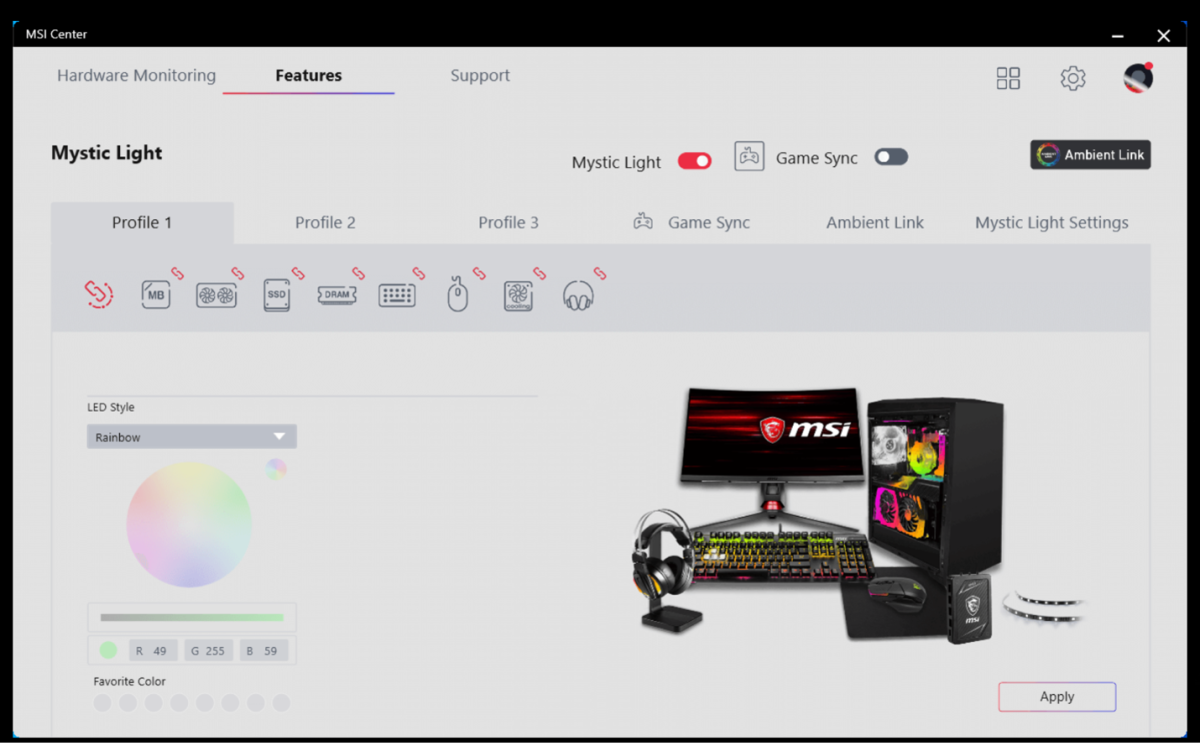 Thiago Trevisan
You'll get access to MSI's Mystic Light RGB control for attached devices, along with some items such as hardware monitoring and driver updates. While we still recommend that certain taks be done in the BIOS, for these items, it's much easier to do them in Windows. 
Overall, the MSI MAG B760M Mortar WiFi performs as expected for its size and price class, with some good software and BIOS support. Aside from CPU overclocking, you're not missing much here. 
Should you buy the MSI MAG B760M Mortar WiFi?
The MSI MAG B760M Mortar WiFi starts out with a few challenges: First, it's a Micro-ATX motherboard, meaning that right off the bat it will have some built-in limitations due to its size versus larger ATX options. Secondly, it comes wrapped in the B760 chipset, further limiting its CPU overclocking and some features like PCIe lanes. 
For $199, how does it add up? It does so very well, navigating those limitations in a compelling package for those wishing to remain under $200 with a small design. You're still getting access to the latest Intel CPUs, with fast DDR5 RAM support. You do get a single 16x PCIe slot, flanked by two onboard Gen 4 NVMe slots. Robust networking and good audio support round out the features—making it as capable as most ATX motherboards. 
Sure, some users will be disappointed in the lack of CPU overclocking support—but we'd argue that that's not this motherboard's target. Most users will be far happier with the $199 price point for Micro-ATX, which typically has less selection in the marketplace due to its "niche" size. You can even find a DDR4 version if that suits your needs better. Keep in mind that higher-end small form-factor motherboards also dramatically increase in price for more features, easily doubling what we have here cost wise. 
For this price, you're not losing much in the way of compromises, and that's great news. With newer motherboards often exhibiting higher pricing, it's nice to see something with good baseline features that won't break the bank or skimp on the essentials.
For all the latest Technology News Click Here 
 For the latest news and updates, follow us on Google News. 
Denial of responsibility!
NewsUpdate
is an automatic aggregator around the global media. All the content are available free on Internet. We have just arranged it in one platform for educational purpose only. In each content, the hyperlink to the primary source is specified. All trademarks belong to their rightful owners, all materials to their authors. If you are the owner of the content and do not want us to publish your materials on our website, please contact us by
email – 

[email protected]
. The content will be deleted within 24 hours.