Qualcomm's Snapdragon X Elite chips promise major PC performance
Qualcomm and its Snapdragon chips are officially back inside the PC. Today, Qualcomm formally launched the Snapdragon X Elite, the flagship platform of its Snapdragon X family that leverages its Oryon CPU core, and promises to double — yes, double — the performance of some of the most popular 13th-gen Core chips from AMD and Intel.
Sound familiar? It should. Qualcomm promised the same with its earlier Snapdragon 8-series chips, and really didn't deliver. But after buying chip designer Nuvia in 2021, Qualcomm is trying again, hoping that its superpowered Arm chips can once again make Windows on Arm PCs a competitor to conventional X86 PCs when they launch in mid-2024.
And they're talking some big numbers to prove it.
Qualcomm sees Oryon first going into PCs (as the engine of the Snapdragon X Elite platform) but then moving into smartphones, cars, "extended reality" devices, and more, Qualcomm chief executive Cristiano Amon is expected to say today. Amon said that Qualcomm is becoming a "connected processing" company, a theme he's mentioned before.
Powering up the PC with processing, AI
If there's one trend that Qualcomm is clearly among the leaders in, though, it's AI. Qualcomm has offered intelligent processing from camera smartphone mode up through more sophisticated audio and video filtering, and is well positioned if and when generative AI or other technologies arrive on the PC.
"We look at AI everywhere," Amon said, AI can work in the cloud, or as hybrid AI: a combination of cloud AI and local processing.
Whether or not it will keep up with AMD and Intel in overall PC processing, though, is the more important question. Qualcomm will spend considerable time and effort at this week's Snapdragon Summit in Maui to try and convince reporters and analysts that it can — and is prepared to talk, in some detail, about what the Snapdragon X Elite offers in terms of architecture and performance.
According to Peter Burns, senior director of product marketing for Qualcomm, the company is on a mission to "modernize the PC experience" with a "premium SOC designed to revolutionize Windows PCs".
"This is performance reborn for the PC ecosystem," Burns added. "X Elite is the most powerful, intelligent and efficient processor for Windows in its class."
Qualcomm is also disclosing its Snapdragon 8 Gen 3 processor for smartphones at its Technology Summit this week. Our colleagues at TechAdvisor will be covering that.
Meet Qualcomm's Oryon CPU, the heart of the Snapdragon X Elite
"I have to tell we have exceeded our own expectations," Amon said. "It is the new leader in mobile computing, period."
The attention paid to the Snapdragon X Elite will be focused on Qualcomm's Oryon CPU, and for good reason. After originally pledging to sample in 2022 with PCs shipping in 2023, Qualcomm then pushed its schedule out by a year, saying it would ship Oryon in 2023. That's potentially still the case, even with Oryon PCs (now using the Snapdragon X Elite platform brand) hitting shelves in 2023.
To begin with, Qualcomm's Snapdragon X Elite is manufactured on a 4nm process node, versus the Intel 4 process node of Intel's Meteor Lake. (The two process technologies aren't directly comparable, though they're close enough for most purposes.)
Qualcomm
Oryon is a tri-cluster design. Historically, that has meant prime, performance, and efficiency cores, with each type of core taking on their own role depending upon the task. However, it appears that Qualcomm and its X86 rivals may have swapped strategies; as Intel adopts performance and efficiency cores, Qualcomm has chosen AMD's path. There are twelve cores within the Snapdragon X Elite, all running at 3.8GHz. Well, most of the time. If needed one or two of the cores can boost to 4.3GHz, the turbo boost strategy that's become common on the PC.
The 64-bit Oryon CPU will be paired with 42Mbytes of total cache, and a memory controller that can access eight channels of LPDDR5x memory (64GB in total) with 130GBps memory bandwidth, executives said. It will be a single die, not a chiplet design.
Qualcomm isn't saying too much about the new Adreno GPU, only that it can deliver 4.6 teraflops. It will power an internal display up to 4K resolution and 120Hz, with HDR10 capabilities. However, the chip can drive three UHD/4K displays or dual 5K displays via embedded DisplayPort 1.4, Burns said. It's also Qualcomm's first desktop chip to feature upgradable software drivers, a staple of PC graphics.
The Adreno engine will also be able to encode at 4K60 in H.264, HEVC and AV1, and decode at 4K120 in all three, plus VP9.
The Snapdragon X Elite platform will also ship with 5G capabilities via the discrete 10Gbps Snapdragon X65 modem, Wi-Fi 7, Qualcomm's lossless audio technology, and Microsoft Pluton, a security technology that AMD has also adopted, but not Intel. It will be able to access NVMe SSDs using PCIe Gen 4, though Qualcomm hasn't said how many lanes will be available. The platform will also provide three USB4 connection, with two 10Gbps USB-C connections.
For Qualcomm, performance is everything
Here's the statement, though, that's going to be the key point. "Snapdragon X Elite delivers up to two times the performance compared to our competitors' most widely-adopted 10- and 12-core laptop CPUs," Burns said. "And it can match their peak performance with as little as one-third of the power for incredible battery life."
Mark Hachman / IDG
Burns clarified that the power reference was for a "leading 14-core laptop competitor." Burns also said that the Snapdragon X Elite will deliver better peak multithreaded performance than its nearest Arm-based competitor. Here, Qualcomm is claiming that the Snapdragon X Elite will beat Apple's M2 Max in single-threaded performance and will match its peak performance at 30 percent less power.
But which chips is Qualcomm talking about? Burns didn't say, but a Qualcomm representative offered a clarification: Qualcomm is comparing its chips against the 13th-gen Core chips, Raptor Lake.
Qualcomm
Specifically, Qualcomm is saying that the Oryon CPU inside the Snapdragon X Elite is up to twice as fast as the Intel Core i7-1355U, and also bringing in Intel's 12-core chip, the Core i7-1360P. The 14-core Core chip Qualcomm is comparing the Snapdragon X Elite to? The Core i7-13800H.
If you read the tiny print on each of Qualcomm's slides, you'll see that Qualcomm is using the multithreaded version of GeekBench 6.1 as a point of comparison. Qualcomm is also claiming that the Oryon will beat a Core i9-13980HX in single-threaded performance, too, at 70 percent less power than the Core i9-13980HX consumes at peak performance.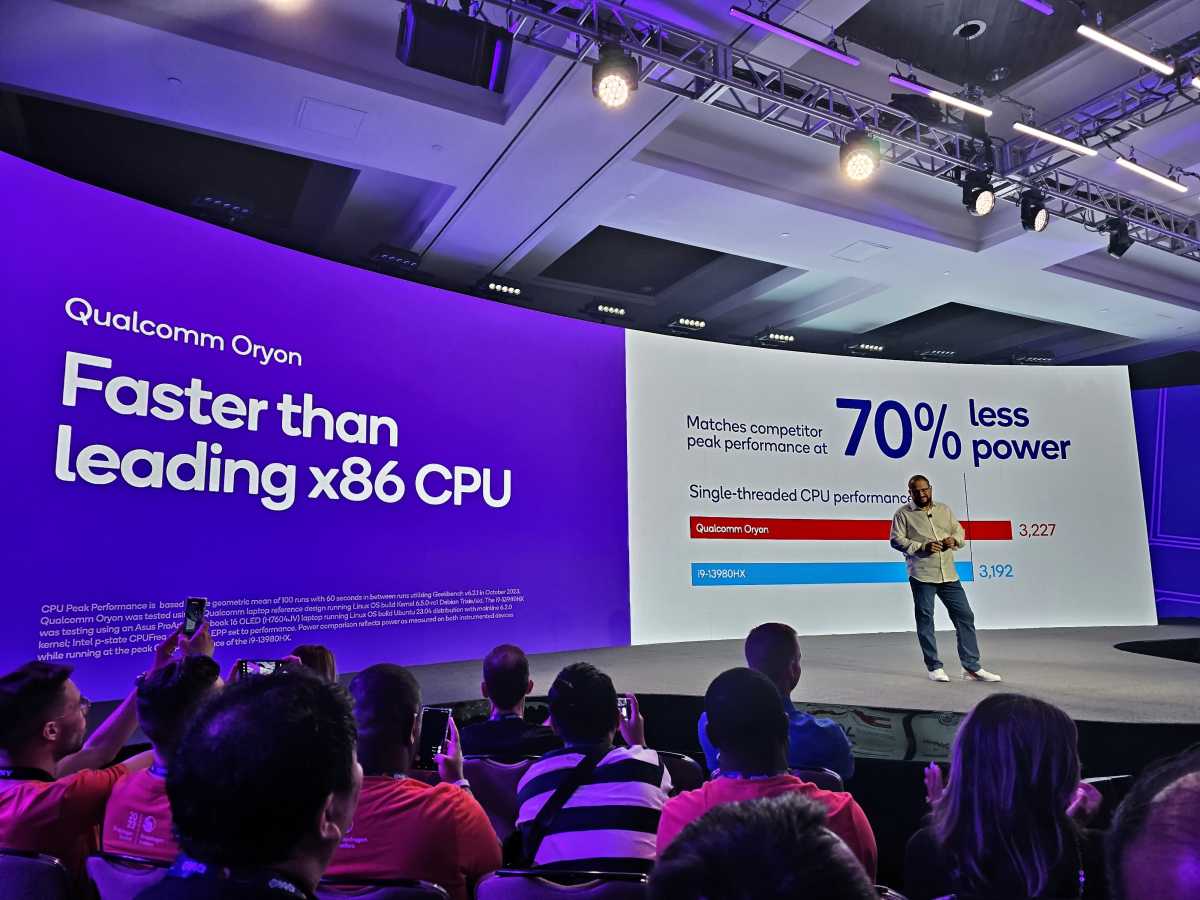 Mark Hachman / IDG
Qualcomm also believes that its integrated Adreno GPU will deliver "up to 2X faster GPU performance vs competition," or match the competition's performance at a quarter of the power.
This matters, though. As most people know, the selling point for a Qualcomm PC has been its connectivity and battery life, with performance and application compatibility proving to be two black marks against the platform. In 2019, for example, Qualcomm told reporters at Computex that its Snapdragon 8cx chip would outperform an 8th-gen "Kaby Lake-R" Core chip, based upon the PCMark 10 Apps benchmark. But PCWorld's benchmarks of the chip inside the Samsung Galaxy Book S revealed that the Core i5-8250U, a Kaby Lake-R chip, outperformed the Snapdragon 8cx by over 50 percent on Qualcomm's hand-picked benchmark. That means Qualcomm needs to show some compelling numbers, and ones that hold up.
Right now, Qualcomm is only disclosing the single Snapdragon X Elite platform. But Burns seemed to imply a range of chips are coming.
Mark Hachman / IDG
"You can take this one chip and scale it across a broad range of thermal designs," Burns said. "So it's a huge benefit to our OEM partners because it simplifies the process to create laptops across so many different form factors… you get more modern devices while getting leading power-performance whether you're using a two-in-one, an ultraportable, all the way up to laptops with large displays."
Gerard Williams, the senior vice president of engineering for Qualcomm, said that future Oryon CPUs will improve power and performance for many CPU generations to come.
Three Snapdragon X Elite reference designs
At the Snapdragon Technology Summit, Qualcomm won a commitment from Lenovo to use Oryon inside commercial and consumer PCs. HP also appeared on stage to endorse the platform, as did Microsoft. All three have used Qualcomm Snapdragon chips before.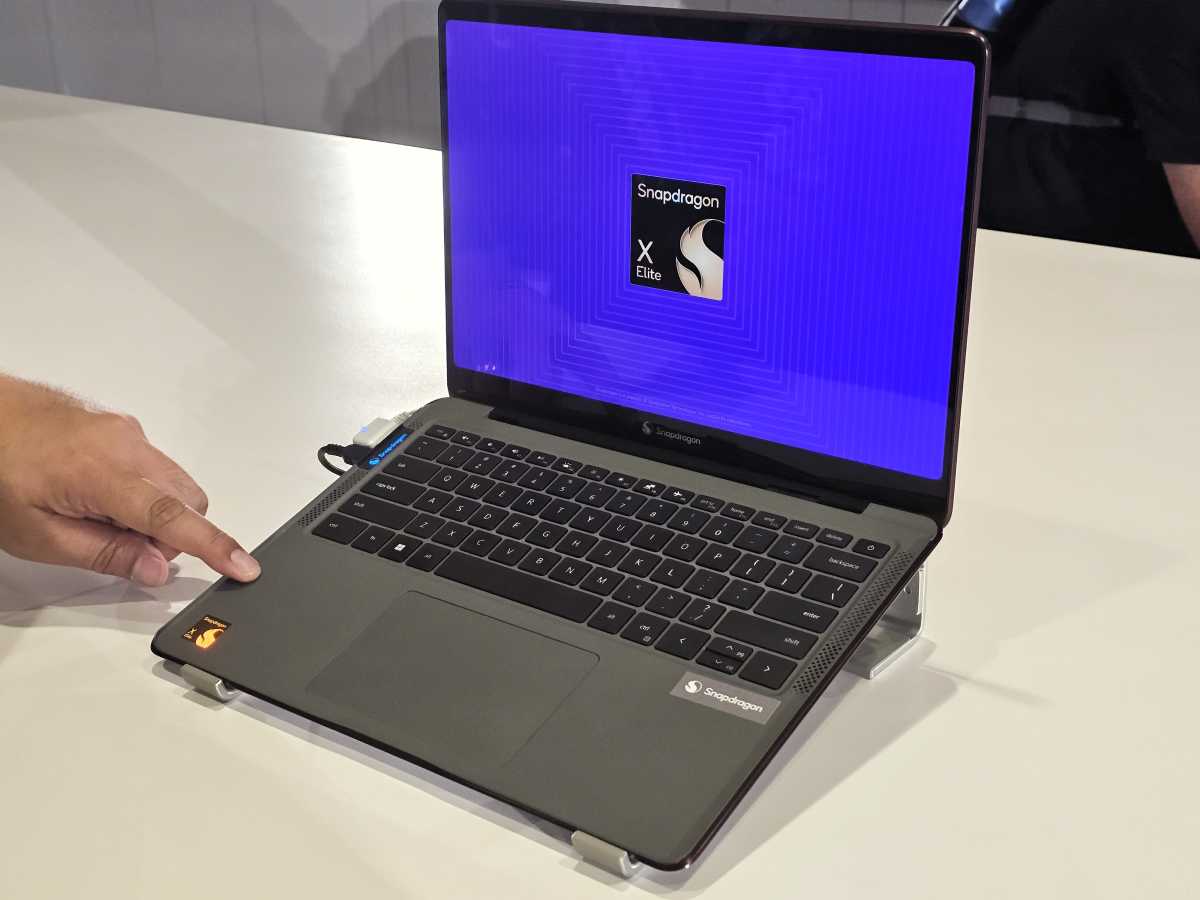 Mark Hachman / IDG
While we don't know if any of these companies will make Snapdragon X Elite laptops, Qualcomm showed off three unlabeled reference designs at the show.
Positioned for AI — if and when it happens
AI, though, remains a challenge for Qualcomm as much as it matters for its rivals. Intel, which has invested into an NPU for its 14th-gen mobile Meteor Lake chip, doesn't have an obvious candidate app for local AI besides Stable Diffusion's AI art, and has launched an AI acceleration program to try and jumpstart local AI software development.
Like Intel, Qualcomm is making the argument that AI on the PC needs to be fast, personalized and private.
In 2023, Qualcomm and Meta agreed to work together to take Meta's Llama AI engine and run it on Snapdragon chips. Llama (you can try a cloud-based version of Llama, here) is an AI chatbot like Bard or Bing Chat. Llama's 13 billion parameters can be run on top of the Snapdragon X Elite, or Qualcomm can run a smaller model, with 7 billion parameters, at 30 tokens per second on a Snapdragon X Elite PC. Essentially — since AI parses words and their relationships, then generates a response — 30 tokens per second is about 1-2 sentences per second, according to OpenAI. The key is that's all being processed on your PC, without the need to disclose your question, or your identity, to the cloud.
One number that Qualcomm is talking about is the relative performance of its Hexagon NPU, or AI engine, in terms of Trillions of Operations per Second, or TOPS. It's a number that Intel has alluded to, but never quite specified. ("I'm going to deliver billions of TOPS that developers can design to," Michelle Johnston Holthaus, an Intel executive vice president and general manager of Intel's Client Computing Group, said recently.)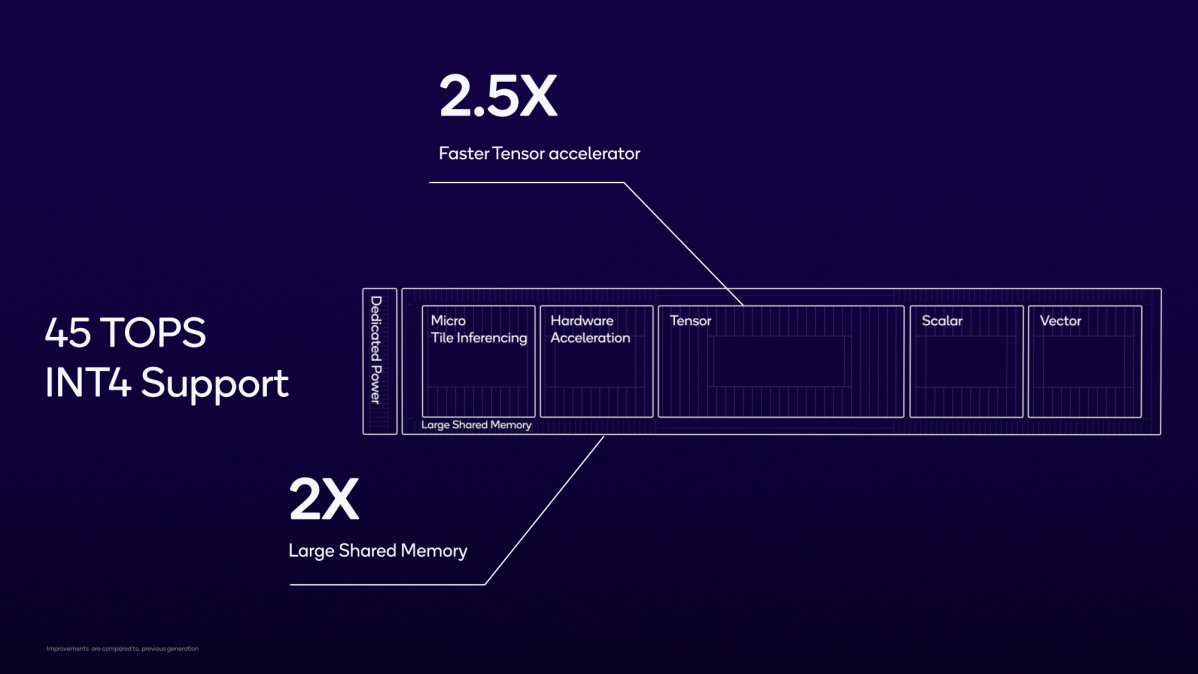 Qualcomm
Qualcomm's putting a stake in the ground. Burns said that the Snapdragon X Elite generates 45 TOPS, over 4.5 times what PC laptop competitors offer today. That, in part, comes from an improved power delivery system, twice the shared memory, and a tensor accelerator that runs 2.5 times faster. It will work in conjunction with what Qualcomm calls its Sensing Hub, a sensor array which will always be on and active for things like presence detection.
Combine the NPU, GPU, and CPU, and the TOPS performance soars to 75 TOPS, Alex Katouzian, the general manager and senior vice president in charge of compute, XR and mobile, said.
On AI, Qualcomm is working with Microsoft, Meta, Google, HP, and others, Qualcomm said. Models that can run on Snapdragon include OpenAI's Whisper, Baidu's Ernie 3.5E, and more.
The question still remains: what are you supposed to do with AI on the PC? There's not a great answer right now, and we'd expect Qualcomm to show us as the Snapdragon Technology Summit rolls on.
Snapdragon Seamless
Move over, Intel Unison. Qualcomm also has a technology framework to connect your phone, laptop, and watch — and soon your car and AR devices, too. Called Snapdragon Seamless, the technology is designed to allow devices to work together, but also to allow peripherals to carry over from one platform to another. According to Cisco Cheng, senior director of product marketing for Qualcomm, each device will communicate its status to others, including battery life, Wi-Fi strength and more.
Cheng said that Qualcomm will show off features normally associated with Unison or Windows' own Your Phone app, but also some new tricks: pushing a mouse pointer across multiple devices (which, to be fair, Samsung has already shown with Samsung Flow) or even stretch an app across multiple devices, too. Smartphones could connect to the Web and project images to an XR device. Earbuds could follow you from one device to another.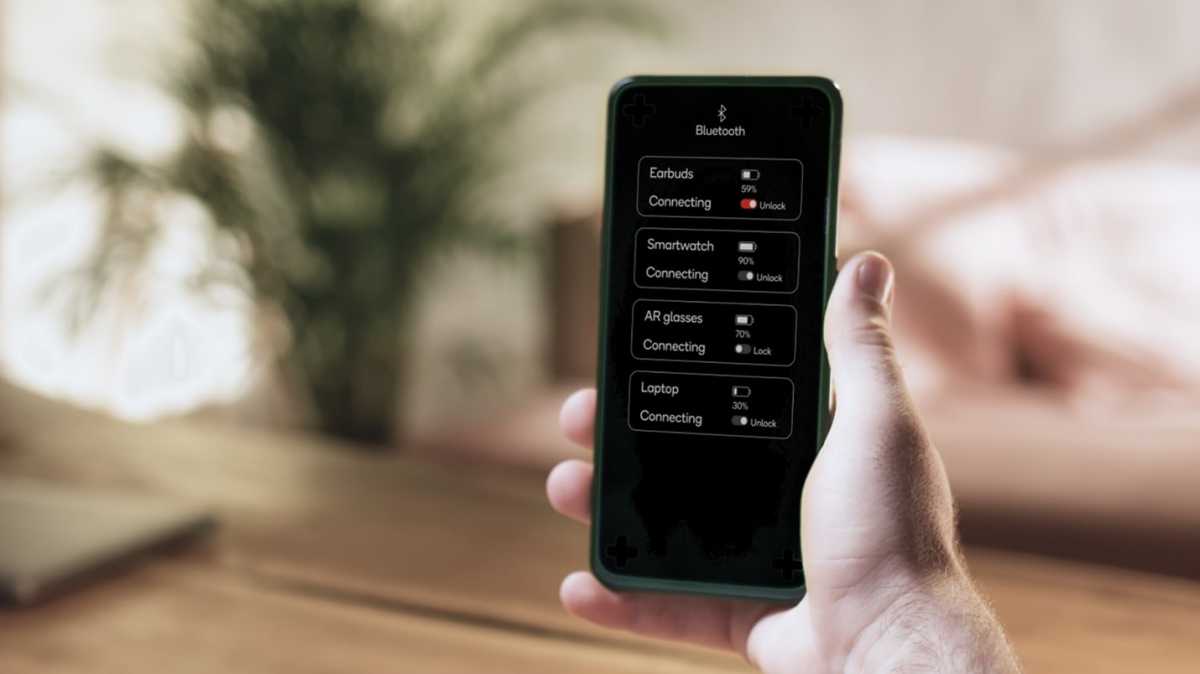 Qualcomm
Qualcomm's Cheng said that his company is working with Microsoft, Google, Asus, Lenovo, Oppo, and Honor to bring together multi-device ecosystems. (Expect to see partnerships with the Chinese mobile device makers first, with Dell and Lenovo coming later, Cheng said.) Seamless will, however, require Qualcomm's "latest platforms," presumably the Snapdragon X Elite and the Snapdragon 8 Gen 3 mobile processor.
"I want to reiterate that we are not replacing the solutions that already exist out there," Cheng said. "But instead we are working behind the scenes to help bridge the divide between these multiple devices."
Let's face it: Qualcomm has a lot to prove on the PC. In the next few days, we'll begin to see if it can live up to its own lofty expectations, as well as the world's.
Editor's Note: To gain access to Qualcomm's new Oryon and Snapdragon X Elite platform, Qualcomm offered to pay for PCWorld for room, board and airfare at its Snapdragon Technology Summit. PCWorld accepted, but maintained editorial control of its content.
This story was updated at 12:10 PM Hawaii time with additional details and photos.
For all the latest Technology News Click Here 
 For the latest news and updates, follow us on Google News. 
Denial of responsibility!
NewsUpdate
is an automatic aggregator around the global media. All the content are available free on Internet. We have just arranged it in one platform for educational purpose only. In each content, the hyperlink to the primary source is specified. All trademarks belong to their rightful owners, all materials to their authors. If you are the owner of the content and do not want us to publish your materials on our website, please contact us by
email – 

[email protected]
. The content will be deleted within 24 hours.