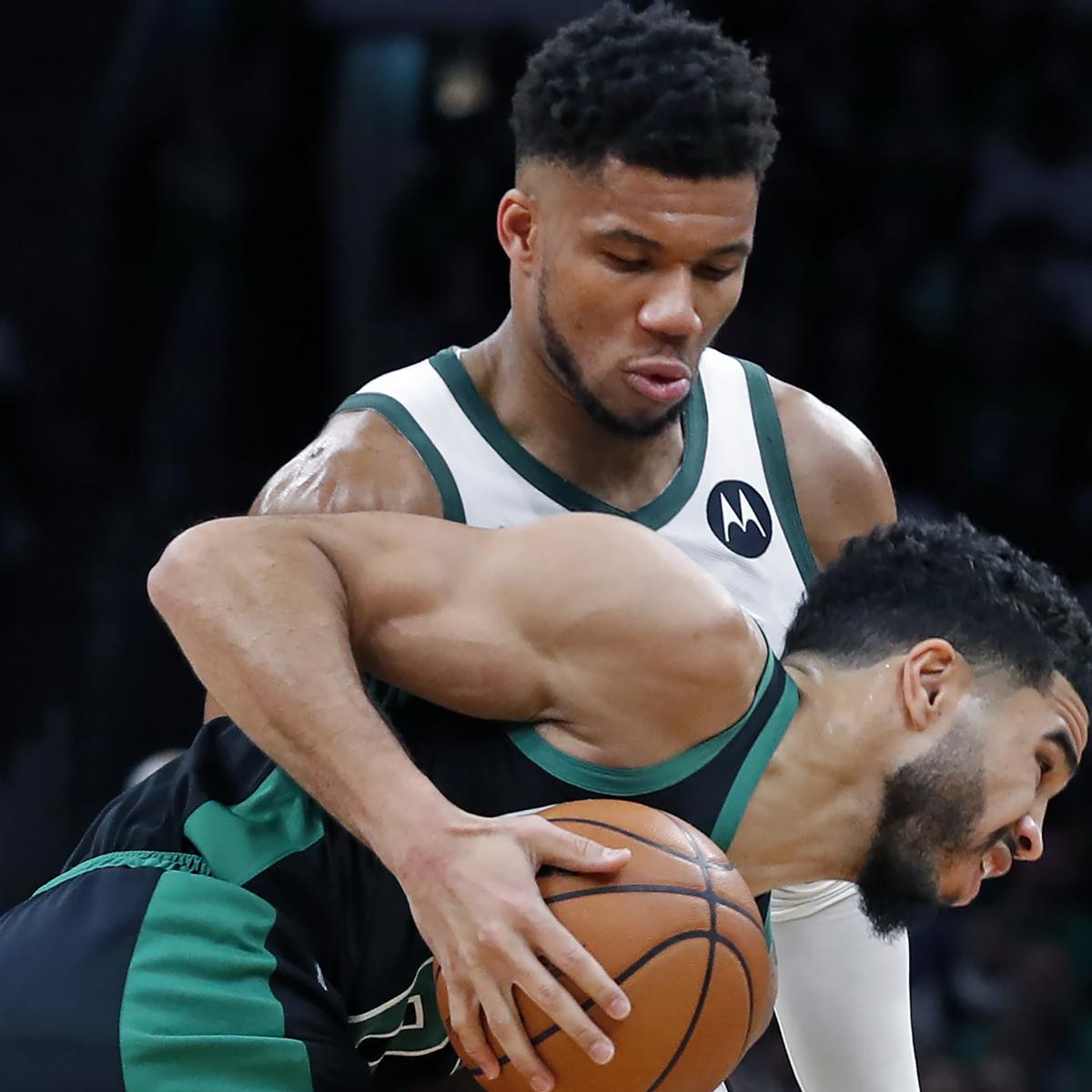 Updated NBA Playoff MVP Rankings: Giannis, Doncic, Butler Battling for Top Spot
0 of 7
Boston Globe/Getty Images

Yet another round of the 2022 NBA playoffs is about to be completed, which can mean only one thing: It's time to update our postseason MVP rankings.

Party poopers will keep pointing out this award doesn't actually exist. Congratulations to them on their devout hatred of fun. Also: This honor should absolutely exist. The NBA Finals—and soon-to-be Conference Finals—MVP designation isn't enough. So, if you really think about it, we're upholding our moral obligation to improve the game by handing out imaginary-that-should-be-actual hardware.

Anyway…

Jayson Tatum claimed the top spot last time around after coming off a scorching-hot thumping of the sad-sack Brooklyn Nets in the first round. Spoiler alert: He has abdicated that throne in this edition. To that end, there is a lot of movement within this ladder, including the arrival of new faces. That's the nature of the postseason's teensy-tiny sample size.

The field of inclusions will shrink to seven, down from 10, to account for the pared-down playoff field. Names from eliminated teams are eligible to make the top seven, but only if they made a second-round appearance. Apologies to Nikola Jokic and Brandon Ingram, who likely still snag a spot if we expand this to 10 players.

To the rankings machine!
1 of 7
Andy Lyons/Getty Images

Previous Ranking: Unranked

Ja Morant's spot on this list will fade in time. A bone bruise in his right knee has sidelined him since Game 3 of the Memphis Grizzlies' semifinals matchup with the Golden State Warriors.

That missed time isn't enough to bounce him from this exercise. He logged more minutes entering Friday night than others who will appear here, and his numbers are impossible to ignore.

Through nine playoff games, Morant averaged 27.1 points and 9.8 assists while converting 47.8 percent of his twos and 34.0 percent of his threes. Sure, his efficiency dipped compared to the regular season. But that comes with the territory of being a half-court lifeline.

Besides, Morant was on quite the roll before his knee injury. His final five appearances saw him put up 32.4 points on 51.3 percent shooting inside the arc and a 35.9 percent clip from beyond it.

Whether the Warriors' relatively hands-off approach to defending him at the start of the semifinals helped inflate his production is irrelevant. He made them pay for inviting a bunch of three-point attempts (43.3 percent success rate) and buried some truly, absurdly tough shots off downhill attacks.

Please don't cite the Grizzlies' record without Morant as evidence that he's somehow less valuable, or that they're better off without him. Depth is part of their charm and significantly elevates their floor. But it's Morant's ability to create and score independent of offensive rebounds and transition opportunities that gives Memphis its ceiling.

Honorable Mentions: Bam Adebayo, Miami Heat; Desmond Bane, Memphis Grizzlies; Joel Embiid, Philadelphia 76ers; Al Horford, Boston Celtics; Brandon Ingram, New Orleans Pelicans; Jaren Jackson Jr., Memphis Grizzlies; Nikola Jokic, Denver Nuggets
2 of 7
Andrew D. Bernstein/Getty Images

Previous Ranking: Unranked

It is time to start a dialogue about how the dialogue surrounding Devin Booker has come so far yet still has a ways, potentially a galaxy, to go.

Granted, the same can be said for the entire Dallas Mavericks-Phoenix Suns series. So much of the discourse focuses on flopping and grifting and extracurricular BS rather than the punch-for-punch refittings we're witnessing game to game.

Harping on the griftable moments is fine—and part of what makes the playoffs great. We're also free to discuss Booker's defense in the semifinals, which has not been great. (I maintain given what we've seen the past two years that he'd be a decidedly above-average defender if not for his offensive responsibilities.) But he is not single-handedly submarining the Suns' chances of reaching the Western Conference Finals.

If anything, it's just the opposite.

Chris Paul is laboring through the worst playoff stretch of his career. Mikal Bridges' offensive inconsistencies are once again cropping up. Deandre Ayton has played with less horsepower for an uncomfortable portion of this series.

After two quiet offensive performances from Jae Crowder, Booker looms as the Suns' sole constant. That is not meant to be a low-bar compliment. It more so underscores how much he stands out. He's averaging 25.5 points and 5.0 assists against Dallas while dropping in 46.7 percent of his twos and 44.4 percent of his triples.

More attention should be paid to the scalability of Booker's offensive stardom. He might play the most malleable style of any primary option other than Stephen Curry. Who else so effectively blends off-ball movement and volume with the bandwidth to run an entire offense? They're essentially dueling roles, and he's made them complementary—all while continuing to register as one of the postseason leaders in points per touch and passes that result in assists, secondary assists or free throws.
3 of 7
Andy Lyons/Getty Images

Previous Ranking: 5

Stephen Curry's playoff performance has somehow flown beneath the radar. Maybe the four games he spent coming off the bench and the minutes restriction placed upon him are responsible. 

Personally, I blame the Warriors' refusal to turn him loose from the jump. His role during first quarters—first halves, really—can and should be described as "deferential cardio." That's on him too. Regardless, just look at his usage-rate breakdown during the semifinals entering Game 6:
Insisting Golden State have Steph attack more on-ball and juice up his shot totals earlier feels like an oversimplification. That doesn't make it wrong.
Spare me the "That's not how the Warriors play" trope. I honestly, unequivocally don't care. He is arguably the most transcendent offensive threat even when his usage is bogged down with too much off-ball decoyism. Limiting him for the sake of system and philosophy is stupid.
Steph is averaging 1.25 points per isolation possession in the playoffs, the third-best mark among everyone to finish as many plays. He's also used fewer of these possessions than Tyrese Maxey.
So, yeah, sometimes it really can be as simple as putting the ball in the hands of your best player more often, the same player who has averaged 26.7 points and 5.7 assists per game while knocking down 58.1 percent of his twos and 36.0 percent of his mind-meltingly difficult threes. 
4 of 7
Boston Globe/Getty Images

Previous Ranking: 1

Credit the Milwaukee Bucks with bumping Jayson Tatum out of the top spot. They have been relentless defending him, even when he doesn't have the ball.

Wesley Matthews in particular deserves a world of praise for the pressure he's putting on Tatum. The Celtics were averaging just 0.85 points per possession as a team entering Friday when Matthews registers as the primary or partial defender on the Boston Celtics' superstar.

Tatum's own efficiency has suffered in the semifinals. He shot just over 45 percent on twos and under 31 percent on threes prior to Game 6. It is a testament to how far Tatum has come that, through it all, he remained indispensable to the Celtics. His help defense continues to be mission critical, and he is their best half-court initiator and playmaker.

Oh, yeah: And then there's his monster performance in a win-or-go-home Game 6, in which he detonated for 46 points on 17-of-32 shooting, his entire offensive package on full display.

Not even the shot-selection narcs can refute his diversification. Giannis Antetokounmpo is the only person in the series averaging more looks inside the restricted area. Tatum's free-throw attempts per 36 minutes have been slashed relative to the first round, but this mostly just proves the Bucks are not the Nets. Go figure.

Boston has won the minutes with Tatum on the court for the semifinals. That matters under the circumstances. And his placement cannot be too thoroughly warped by a Game 5 fourth-quarter collapse that possibly cost the Celtics their season. He played a role in the offense grinding down to a slog, but he was also the only player on the team who could get going during that (disastrous) final frame.

Don't call this a superstar arrival. Tatum's been here. This is more like an affirmation.
5 of 7
Ron Jenkins/Getty Images

Previous Ranking: Unranked


Luka Doncic didn't quite crack the podium in our last playoff-MVP shindig after missing the first leg of the  Mavericks series with the Utah Jazz. Even then, though, it was painfully clear he would not fail to qualify again.

Spotty outside shooting does little to harsh Doncic's case. His sub-33-percent clip from downtown in the playoffs—and sub-30 percent in the semifinals—comes on ridiculously difficult volume.

Doncic's body of work against the Suns, specifically, is more impressive than anything. He not only remains the primary defensive focus and has needed to run the gamut just to find matchups he prefers, but the Mavericks' supporting cast is at times making his job harder.

Jalen Brunson has been up and down after skewering the Jazz. Spencer Dinwiddie has been mostly down. And both of them, as well as Dorian Finney-Smith and Maxi Kleber, are shooting noticeably better from the floor at home than on the road.

There is no overstating the workload Doncic has carried during games in Phoenix. He's averaging 36.0 points and 5.7 assists through the Mavs' three semifinals road tilts while canning 58.7 percent of his twos and 37.9 percent of his triples.

Those performances ring hollow when they've all culminated in losses. But they aren't any less telltale of his responsibility. Over 94 percent of his made baskets in the postseason are going unassisted, the largest share among 61 players clearing 15 minutes per game.

The next phase of Doncic's evolution should include even more off-ball work and quicker decisions down the stretch. For now, the Mavs need him to be everything, all at once—a centrality that isn't ideal but has still ferried them within one win of dethroning the NBA's best team.
6 of 7
Matt Slocum/Associated Press

Previous Ranking: 3


There is nothing quite like Postseason Jimmy Butler.

To be sure: Regular Season Jimmy Butler is a superstar. No question. But Postseason Jimmy Butler is a souped-up megastar.

The havoc he incites on the move is a sight to behold. He is the rare primary ball-handler who at once seems to be pass-first and score-first. I know this makes no sense. That inexplicability is the entire point.

Butler has continued his annual tradition of morphing into an every-level bucket when the stakes start to heighten. His finishing around the cup is as bankable as ever—71 percent clip at the rim—and he remains an expert in the art of drawing shooting fouls. But after posting a 41.2 effective field-goal percentage on jumpers in the regular season, he's at 47.2 for the playoffs. It isn't an elite mark. It's also a huge difference.

This isn't the byproduct of Butler capitalizing on ultra-favorable matchups. The Atlanta Hawks and incredibly hobbled Philadelphia 76ers aren't world-beaters, but the Miami Heat have needed to navigate Kyle Lowry's hamstring injury, and even Butler missed a game with his own knee issue.

Inferior competition can also invite cruise control. Just ask Golden State. Butler knows only one speed: full tilt. Merely watching him pair constant offensive probing with defensive stick-to-itiveness is exhaustive. And he has smack-you-in-the-face numbers to prove it: 28.7 points, 5.4 assists and a postseason-best 2.1 steals on what would be a playoff-career-high 61.8 true shooting—statistical benchmarks that, if they hold, will be the first of their kind in the postseason.
7 of 7
Nathaniel S. Butler/Getty Images

Previous Ranking: 2

Giannis Antetokounmpo has spent the entire postseason cementing his status as the league's consensus best player. It is not inarguable, but it's damn near close—more universal than ever.

The semifinals have only elevated Giannis' total dominance. It hasn't always been pretty; he was 4-of-21 on threes entering play Friday, and his free-throw shooting remains touch-and-go. But his overarching limitations are no longer as prohibitive.

There is value in Giannis' perimeter volume—especially when he's 4-of-8 from deep over the past two games. And he's more methodical in how he busts through defenses going downhill. He has largely figured out how to finish around Al Horford at varying angles or get himself into more favorable matchups, insofar as they exist. (Robert Williams III's absence has helped.)

For as well as the Celtics have held up against Giannis, he's still downing 50.3 percent of his twos in the semifinals, including a 71.4 percent clip inside the restricted area. He also joins Jimmy Butler as the only two players who rank inside the top six of points scored per game in the paint, on fast breaks and off turnovers.

Milwaukee, for its part, has yet to figure out how to survive the stretches in which Giannis is catching a breather. The Bucks are a minus-39 points in the 45 minutes Jrue Holiday has logged without him.

Some will invariably maintain Giannis is more force of will than skill. They're wrong. It also doesn't matter. Because if this is primarily Giannis' force of will at work, then, well, his will be done.

  

Unless otherwise noted, stats courtesy of NBA.com, Basketball Reference, Stathead or Cleaning the Glass. Salary information via Spotrac.

Dan Favale covers the NBA for Bleacher Report. Follow him on Twitter (@danfavale), and listen to his Hardwood Knocks podcast, co-hosted by NBA Math's Adam Fromal.
For all the latest Sports News Click Here 
 For the latest news and updates, follow us on Google News. 
Denial of responsibility!
NewsUpdate
is an automatic aggregator around the global media. All the content are available free on Internet. We have just arranged it in one platform for educational purpose only. In each content, the hyperlink to the primary source is specified. All trademarks belong to their rightful owners, all materials to their authors. If you are the owner of the content and do not want us to publish your materials on our website, please contact us by
email – 

[email protected]
. The content will be deleted within 24 hours.